About
Stop Motion Storyboard is my freeware Java application for storyboarding a Brickfilm before starting the elaborate still image capture.
The latest available download is "version 0.2".
Screenshots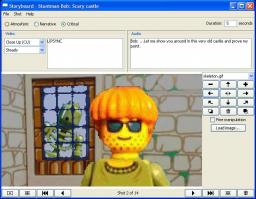 Features
Use the combination of script and graphics to tell your story.
Easy composition of frames using clip art images.
Supports all popular frame aspect ratios.
Prints hardcopy storyboards on your printer.
Saves storyboards in an XML file format.
Stores relative paths to allow easy replacement of images.
Bugs and feature requests
Check out the list of known problems and ideas for further development.
Let me know what you think of this application and report any problems or suggestions you might have yourself.