<< Audio | Tutorials | Sound Effects >>
Lipsync animation is the art of making the mouth movement of an animated actor coincide with his spoken words.
Stop Motion Recorder includes a tool to create professional lipsync animation based on phonemes: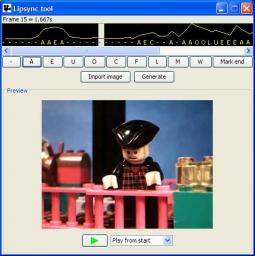 Upon loading an audio track, a default lipsync sequence is generated consisting of silence and "A" phonemes.
By clicking on the timeline, the image for the phoneme at that frame is displayed and a fragment of the audio track starting at the frame is played. You can now load an image for the phoneme, or change the phoneme for this frame. By pressing the Play button you can at any moment test the lipsync with the audio.
After you are satisfied with the animation, it can be added to the scene at the cursor position by pressing the Generate button.